Zoom. GoToMeeting. Microsoft Teams. Google Meet. Facebook Rooms. Apple Facetime. Does anyone even remember Skype? There are well over two dozen virtual meeting platforms available today.
Love them or hate them, virtual meetings are not going to go away after the COVID-19 pandemic is over. It has become much too convenient, less time consuming and much less expensive for people to stay in their offices or their own homes to communicate with donors, board members, consultants, and other team members. Sure, face to face meetings will come back, but they will be less frequent and different with more people participating remotely. Gone are the days when people jump in their cars or on a plane for an "important meeting" at every opportunity.
This new way of meeting has resulted in a dichotomy. On one hand, it has led to a lack of intimacy as people are no longer in the same physical space, making it harder to read body language and subtle facial cues that provide context at in person meetings. For instance, giving a PowerPoint presentation while only being able to see a row of participants in small boxes along the bottom of the screen makes it extremely difficult to read the audience. On the other hand, it has led to a new, sometimes hilarious, sometimes cringeworthy, level of intimacy as meeting attendees are frequently brought into private offices and people's own homes, spaces that were rarely or never seen before.
This new level of intimacy was thrust upon us rather suddenly, without much thought or a hard and fast parameters. People cobbled together makeshift home and office "studios." Casualness about virtual meetings has resulted in numerous viral moments, from the adorable little boy who just wants to go to bed to the humiliated attorney who showed up before a judge in cat face.
It is just as important to maintain a level of professionalism and represent your organization's brand online as it is in person. It is even more important now to plan ahead and be organized online because the virtual format is less flexible. Almost a year into the pandemic people make judgements about you based on what they see on the screen in front of them. And as time goes on they are becoming less forgiving about what they see. It is time for many of us to move beyond the improvised approach we've used until now and take a more serious look at how we present ourselves online.
To put your best face forward, here are some things to consider before going on line for a meeting.
Timeliness – don't keep your audience waiting. It is not a bad idea to set an alarm five minutes before a virtual meeting to get set up and make sure the video and audio settings are where you want them.

Mute yourself – Unless you are the presenter, you should always mute yourself unless you are speaking. Open mics lead to two things, annoying feedback noise and awkward hot mic moments in the background, ranging from barking dogs to swearing spouses!

Familiarize yourself – If you are going to be using auxiliary features like PowerPoint, do a dress rehearsal with someone so you are smooth and professional in front of your intended audience. Even if you are not presenting, you should know the basic settings of the platform you are on, how to join a meeting, how to turn your mic and video feed off and on without having to scramble.

Privacy – make sure that your door is closed, and locked if necessary, to avoid interruption from co-workers, family members and pets. Make a "Meeting in Progress" sign if you have to.

Position / Angle – To literally put your best face forward, the computer camera should be directly in front of you, or at most between 11 and 1 o'clock so the viewer can see your face, not your profile. This is important to create a sense of connection between you and the viewer. The camera should be close to eye level, so you are not looking down or up at it. You shouldn't have to strain your neck to look into the camera. Try to avoid the "peep hole" effect where the camera is positioned next to a cabinet wall or under a shelf chopping off part of the screen. Typically you should be seated or standing 2-3 feet from the camera.

Lighting – Your face should be well lit, the more light on your face the better you will look.

Windows – Windows can be your best friend or worst enemy. If possible, position the camera between yourself and a window, so the window provides the light for your face. The last thing you want to do is sit between the camera and a window on a sunny day – it will turn you into a silhouette. Be sure to close the blinds or pull the shade if you have to have a window behind you while you are in a virtual meeting. You will look better and the others will appreciate it.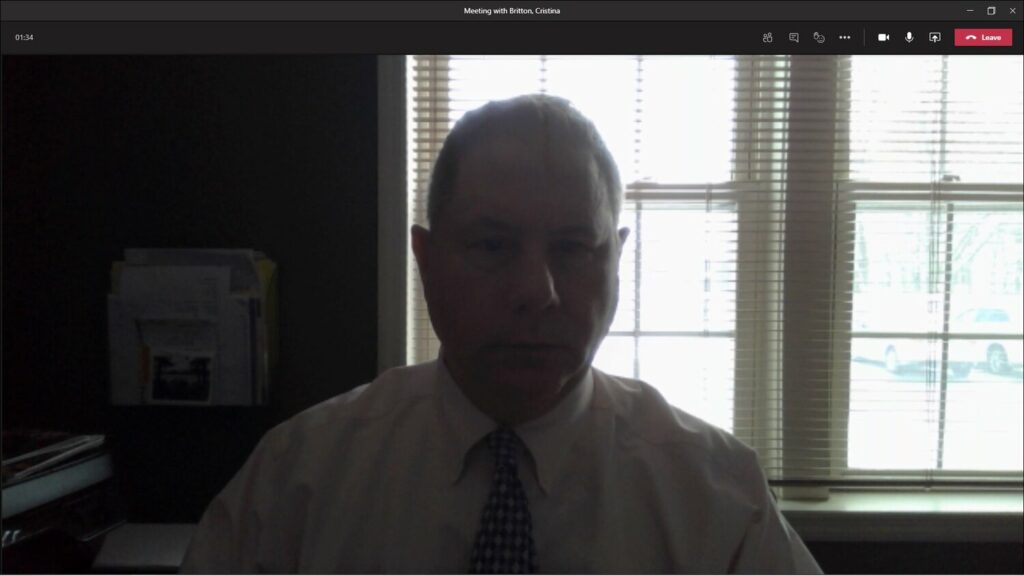 Backlit by window creating silhouette effect.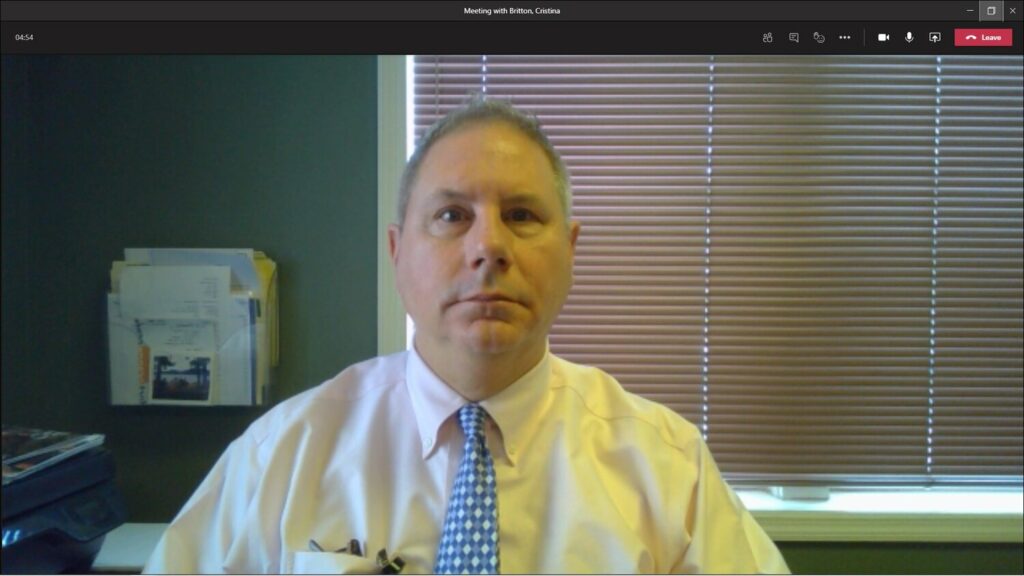 Simply closing the shades completely changes the lighting.
Ceiling lights and fans – Frequently, when people are using laptops, the camera will be angled in a way that puts a ceiling light fixture directly behind the person's head, creating a decidedly non-angelic halo effect. Avoid this. Also avoid having a ceiling fan halo, no one wants to see a ceiling fan whirling in the background.

Background and Clutter – Whether in your office or in your home, be aware of what is in the background when you are on camera. The area seen by the camera should be neat and tidy. Don't distract meeting participants with open doors to other rooms, messy bookshelves or piles of laundry on the bed behind you. Almost all meeting platforms offer customizable backdrop options, from a filter that blurs things in the background, to fake offices and outdoor landscapes. You may be able to use a photo of your own as a backdrop. It is worth exploring these options to see how you can best represent yourself.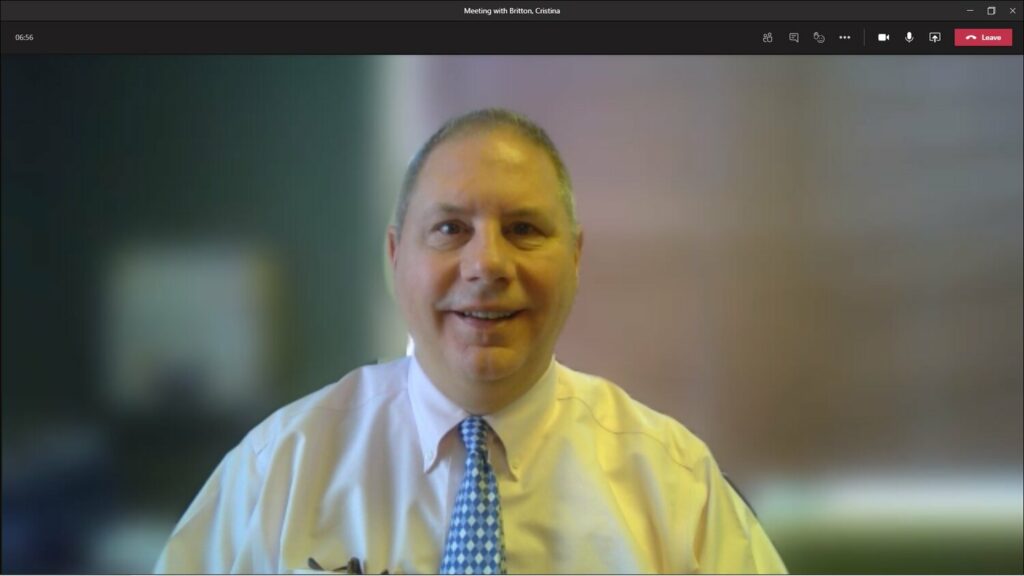 Using "blur" background filter.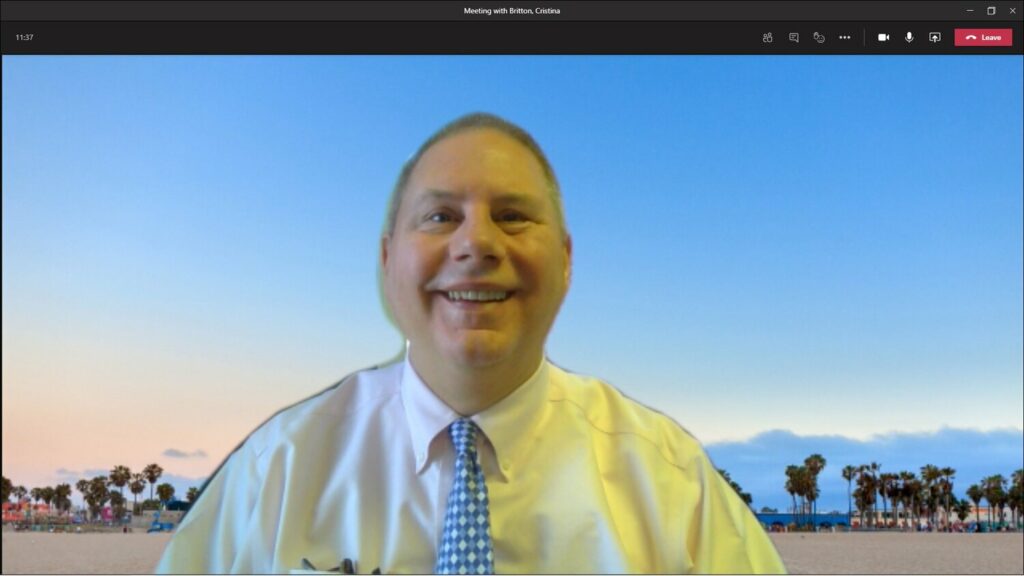 Using a beach background filter.
Hair and Makeup – Keep in mind that you want to put forward a professional look and people in an online meeting are more likely to scrutinize other people's appearance online than they would in person.
Food – Are you self conscious about eating on camera? You should be. No one wants to see that.

Camera quality / accessories – If you really want to step up your video presentation game there is an endless, ever changing, ever improving variety of "toys" available from high tech video cameras, to ring lights and green screens for background effects. Proceed with caution, read reviews before spending a fortune unnecessarily.
With just a little forethought and practice you can be a virtual meeting pro!